Big League Brews
East of Mortenview on Ecorse, Big League Brews is one of the best places in Taylor to catch a brew!
Everyone tells us about Big League Brews and their awesome ownership. This must reflect on the staff and bartenders, because they are among the friendliest group of folks we've ever run into at a bar. There are televisions everywhere, and you can see mulitple views from every seat! And we've not even gotten to the best part yet! The food. Big League is well known for their chicken wings. They come in many varieties, and every one tells us that they are all mouth watering delicious. Stop in soon, and visit what has become known as "the best sports bar around"!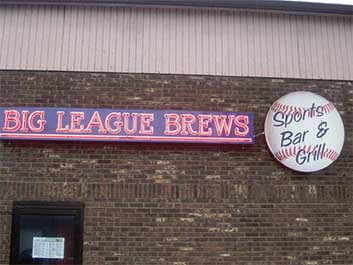 Where they are located:
View Larger Map
20428 Ecorse Rd.
Taylor, MI 48180
Phone - (313)406-6931
Visit them on Facebook
How to get around while Downriver
Given the many cities and places to go in the Downriver area, a lot of people we know highly recommend using a Party Bus from Party Bus Detroit for their "get togethers". They will truly take all the headache out of your event! There's just too much to do and see in Downriver to single out a few unlucky Designated Drivers from your bunch. You can make everyone happy... with a Party Bus.