JP McGuire's
Located in a cozy neighborhood on Goddard Road and Mortenview, JP McGuire's always makes one feel right at home.
Great music, and among the best bar burgers around is what you'll find at JP McGuire's. Cleaner than most, you can tell that ownership and the staff really take great pride in taking care of this long standing establishment. They also hosts events for holidays, most notably St. Patty's day where you'll find a tent set up to accomodate a whole mob of revelers! Regardless of when you go, though, JP McGuire's offers great times as well as great value!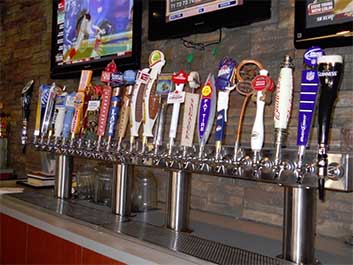 Where they are located:
View Larger Map
21138 Goddard Rd.
Taylor, MI 48180
Phone - (313)291-7372
Visit them on Facebook
How to get around while Downriver
Given the many cities and places to go in the Downriver area, a lot of people we know highly recommend using a Party Bus from Party Bus Detroit for their "get togethers". They will truly take all the headache out of your event! There's just too much to do and see in Downriver to single out a few unlucky Designated Drivers from your bunch. You can make everyone happy... with a Party Bus.