Charlie's Bar
Charlie's Bar is super easy to spot on Fort Street, by it's brown, busy exterior.
Charlie's Bar offers a rustic atmosphere, and is conveniently open every night of the week. They offer a diverse array of entertainment options for your evening... Live music, pool table, darts, free WiFi, and Karaoke on certain nights. They have the accomodations for private parties, with ample parking. For your party, they have superb food as well as the full assortment of drinks, wine, beer, and liquor.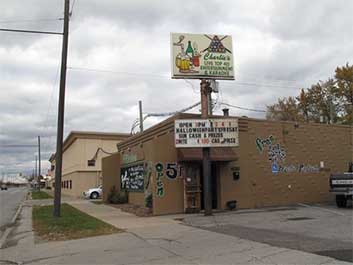 Where they are located:
View Larger Map
2075 Fort St.
Wyandotte, MI 48192
Phone - (734)285-9010

How to get around while Downriver
Given the many cities and places to go in the Downriver area, a lot of people we know highly recommend using a Party Bus from Party Bus Detroit for their "get togethers". They will truly take all the headache out of your event! There's just too much to do and see in Downriver to single out a few unlucky Designated Drivers from your bunch. You can make everyone happy... with a Party Bus.