Do'Hickey's Bar and Restaurant
Right next to the Yack Arena on Maple Street, Do'hickey's offers an ethnic Irish experience.
Do'hickey's has become a Wyandotte mainstay while offering such Irish classics as Corned Beef, Shepard's Pie, and Potato Soup. Besides offering such delicious offering, they also offer a full range of beer and liquor to quench your thirst as you're relaxing in the old-town atmosphere. As is common with smaller neighborhood bars like this, Do'hickey's has a loyal following of regulars who have always been friendly and relaxed as the establishment itself. All in all, when looking for an authentic Irish experience, Do'hickey's is the place to go Downriver to get this fix!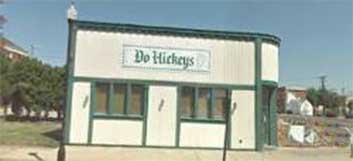 Where they are located:
View Larger Map
232 Maple St.
Wyandotte, MI 48192
Phone - (734)285-8370

How to get around while Downriver
Given the many cities and places to go in the Downriver area, a lot of people we know highly recommend using a Party Bus from Party Bus Detroit for their "get togethers". They will truly take all the headache out of your event! There's just too much to do and see in Downriver to single out a few unlucky Designated Drivers from your bunch. You can make everyone happy... with a Party Bus.