Oak Cafe
A Wyandotte mainstay, Oak Cafe is on Oak St. and 12th.
You haven't "hung out" in Wyandotte, until you've spent an evening at the Oak Cafe! They constantly have new brews on tap, and they make sure their staff is well educated in all things beer. If they don't have your favorite on tap, make sure to ask if they have it in the bottle, you'll be shocked at just how many brews they have at your fingertips. They also have a great liquor selection with knowledgeable barkeeps to make just about any cocktail you can imagine... We haven't even mentioned the food, which is quite good by all means. They have a wide variety of sandwiches and other foods off the grill or fryer. Regardless of when you go, you'll have a great time!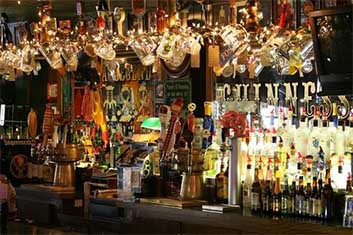 Where they are located:
View Larger Map
1167 Oak St.
Wyandotte, MI 48192
Phone - (734)283-8380
Check out their website for more info
How to get around while Downriver
Given the many cities and places to go in the Downriver area, a lot of people we know highly recommend using a Party Bus from Party Bus Detroit for their "get togethers". They will truly take all the headache out of your event! There's just too much to do and see in Downriver to single out a few unlucky Designated Drivers from your bunch. You can make everyone happy... with a Party Bus.