Malarkey's Southgate
On the corner of Dix Toledo and Eureka Road, in Southgate; Malarkey's is a prime spot for your party!
Everyone we ask about Malarkey's has told us that Malarkey's is always a great time! They offer great food (be sure to try their Steak Bites) and ice cold drinks to all of their patrons. The staff is always friendly and willing to accomodate even the most unusual requests. Entertainment, like the food, is never in short supply... They regularly book live bands, DJ's, and will take reservations for your large groups. They even offer free wifi! We have yet to see a reason not to spend a night of partying at this Hot Downriver location!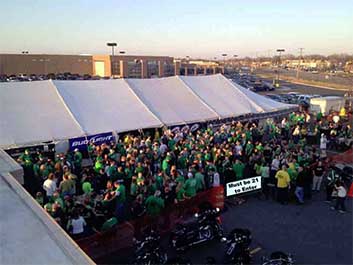 Where they are located:
View Larger Map
14980 Dix Toledo Rd
Southgate, MI 48195
Phone - (734)281-2616
Visit them on Facebook or Check out their website for more info
How to get around while Downriver
Given the many cities and places to go in the Downriver area, a lot of people we know highly recommend using a Party Bus from Party Bus Detroit for their "get togethers". They will truly take all the headache out of your event! There's just too much to do and see in Downriver to single out a few unlucky Designated Drivers from your bunch. You can make everyone happy... with a Party Bus.