Quit-N-Time
A great spot for the Downriver Cruise, Quit-N-Time is right on Fort St, just south of Eureka Road.
One of the more popular destinations in Downriver is Quit-N-Time bar and grill. Featuring a friendly and great looking staff, we're sure that you will find a great time at Quit-N-Time. They regularly have either live music or a DJ for entertainment, as well as a good sized dance floor to boogie to your heart's content. Be sure to ask about specials while you're there. As they offer daily specials, happy hour, and "power hour" to accentuate their already friendly prices.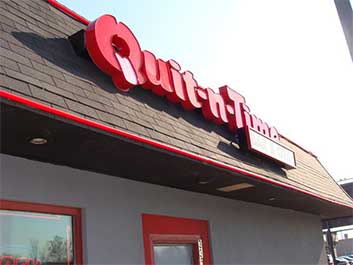 Where they are located:
View Larger Map
3030 Biddle Ave.
Wyandotte, MI 48192
Phone - (734)282-2244
Visit them on Facebook or Check out their website for more info!
How to get around while Downriver
Given the many cities and places to go in the Downriver area, a lot of people we know highly recommend using a Party Bus from Party Bus Detroit for their "get togethers". They will truly take all the headache out of your event! There's just too much to do and see in Downriver to single out a few unlucky Designated Drivers from your bunch. You can make everyone happy... with a Party Bus.