Smokies Restaurant & Lounge
Smokies Restaurant & Lounge is right on Wyandotte's "main street" of Biddle Avenue leading into Downtown.
More of a restaurant than a bar, Smokies does offer a full bar to enjoy a fine drink while dining on your delicious meal. Smokies offers a different assortment of pastas, salads, pizza, and sandwiches. They have been open since 1999 and the quality keeping them prosperous is evident from your first bite. They also have a killer rack of ribs! Try them out the next time you're in the area.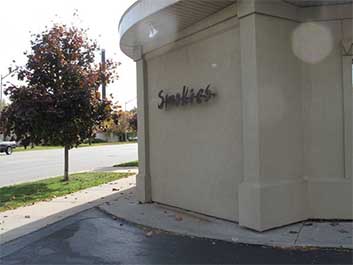 Where they are located:
View Larger Map
930 Biddle Ave.
Wyandotte, MI 48192
Phone - (734)283-3228
Check out their website for more info!
How to get around while Downriver
Given the many cities and places to go in the Downriver area, a lot of people we know highly recommend using a Party Bus from Party Bus Detroit for their "get togethers". They will truly take all the headache out of your event! There's just too much to do and see in Downriver to single out a few unlucky Designated Drivers from your bunch. You can make everyone happy... with a Party Bus.