Perfect Pitcher Sports Club
Located on South Beech Daly Road, the Perfect Pitcher is a great place to unwind and watch the game!
Perfect Pitcher has it all. Sports, events, bands, pool, and great food. Every Wednesday, they have a fund raiser dinner featuring home made spaghetti, a full menu of great homestyle offerings as well as your traditional "bar food". Perfect Pitcher has a great burger! Be sure to grab a reasonably priced drink with your burger, and your night is well on it's way to being Perfect.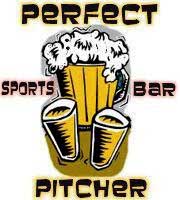 Where they are located:
View Larger Map
12900 Beech Daly Rd.
Taylor, MI 48180
Phone - (313)947-9707

How to get around while Downriver
Given the many cities and places to go in the Downriver area, a lot of people we know highly recommend using a Party Bus from Party Bus Detroit for their "get togethers". They will truly take all the headache out of your event! There's just too much to do and see in Downriver to single out a few unlucky Designated Drivers from your bunch. You can make everyone happy... with a Party Bus.